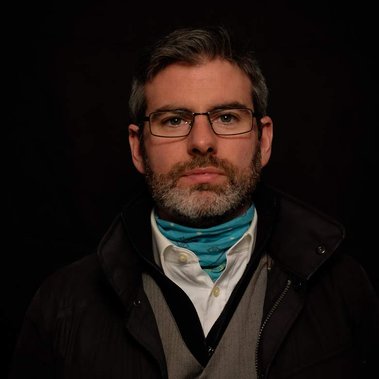 For photo edits, project updates, print sales and other news read, subscribe to and share my monthly newsletter, The [ED]it, here.
CONTACT

Based near Farnham, Surrey, in south east England, just 45 minutes from London, but I also regularly return to visit and work in North Wales and New York, USA.
mobile: +44 (0)7399 505636
email: edbrydon@gmail.com
twitter: @edbrydon
instagram: @edbrydon
Photo: Self-portrait after Joseph Mallord William Turner c.1799 (Tate, London).
Copyright © Ed Brydon
BIO

I am a photographer and writer interested in the connections between people, land, culture, health, science and community.
I was born in England to English and Irish parents and grew up in North Wales before moving to New York for 15 years to pursue scientific research on human viruses. In 2018 I returned to the UK.

My research background has informed my projects that concern science and health, and has led to a wider interest in the concept of One Health, which recognizes the interconnection between people, animals, plants, and their shared environment.
More recently this has led me to delve into personal connections to place, including the land and natural environment, and how each of these and the connections between them change over time.
I am increasingly drawn towards complementing my documentary approach with traditional and alternative photographic methods, such as salt printing, cyanotype and other processes. This has also made me re-examine my practice with the aim of making it more sustainable.
In 2017 my ongoing project on people of North Welsh heritage in the northeast US was exhibited at Northern Eye Festival. I was subsequently awarded a commission from the Welsh Parliament in 2019 to make new work on this project for exhibition around Wales in 2019-20.
At a fundamental level I pursue what I am most curious about, and as a former scientist I find that photography and science are both reliant on a curious nature and keen observation of the world around us.
"Seek light, keep moving", American poet Maggie Smith
Assisting member of the Association of Photographers (AOP)
Member of Kiln Photo Workshops (Badshot Lea, Farnham)
Resident at Little Acre Studios (Rowledge, Farnham)
Selected clients: The Telegraph Magazine, HSBC, Sterling Publishing, University for the Creative Arts (UCA), The Crafts Study Centre, The Pirbright Institute, The Western People.

My work has been featured in: The Guardian, Caught by the River, Closure Magazine, The Western Mail, Documenting Britain, Stellazine, Rear Curtain, Pictory.
For information about how purchase prints, books or zines available in my shop please visit this page. Please contact me directly if something you like is not currently in the shop. You can also find more ways to support my work here.
EXHIBITIONS
2023 - Hampton Hops at Farnham Maltings
2022 - The Singing Hills at Camp Good Life, Hawarden, North Wales
2020 - Digital Journeys at Photo Fringe; Phoenix Art Space, Brighton
2020 - Change at Jamaica at Guildford Institute, with Kiln Photo Workshops
2019-2020 - The Singing Hills, for Many Voices, One Nation, exhibited at:
The Senedd, Cardiff
Aberystwyth Arts Centre
Redhouse Merthyr Tydfil
Galeri Caernarfon - cancelled due to COVID-19

2017 - The Singing Hills at Northern Eye Festival; Oriel Colwyn
2014 - Rock Steady Boxing at DUMBO Arts Fest; Gleason's Gym, Brooklyn, NY
BOOKS
2022 - Tansa-Japanese threads of influence; photographed Linda Brassington's piece for the exhibit and book
2021 - Many Voices, One Nation; contributing artist commissioned by the Senedd and Ffotogallery
FEATURES
2022 - The Guardian; The Singing Hills
2022 - Caught by the River; The Singing Hills
2021 - Closure Magazine Instagram takeover
2021 - Lenscratch; Favorite photo of 2020 exhibition
2020 - Closure Magazine; Closuremas
2020 - Black River journal; The Singing Hills
2017 - Ffoton Wales watchlist. Interview in conjunction with the exhibition of The Singing Hills at Northern Eye Festival
2015 - Documenting Britain; Hard to Place, Not Hard to Love
2013 - Stellazine (Stella Kramer); Dara, Life with MS
2012 - Rear Curtain, issue 3; Holiday Displays of New York
2012 - Pictory magazine; Portrait of a place, Paris
2011 - Pictory magazine; For the love of the game
2011 - Pictory magazine; Handmade