30 May 2021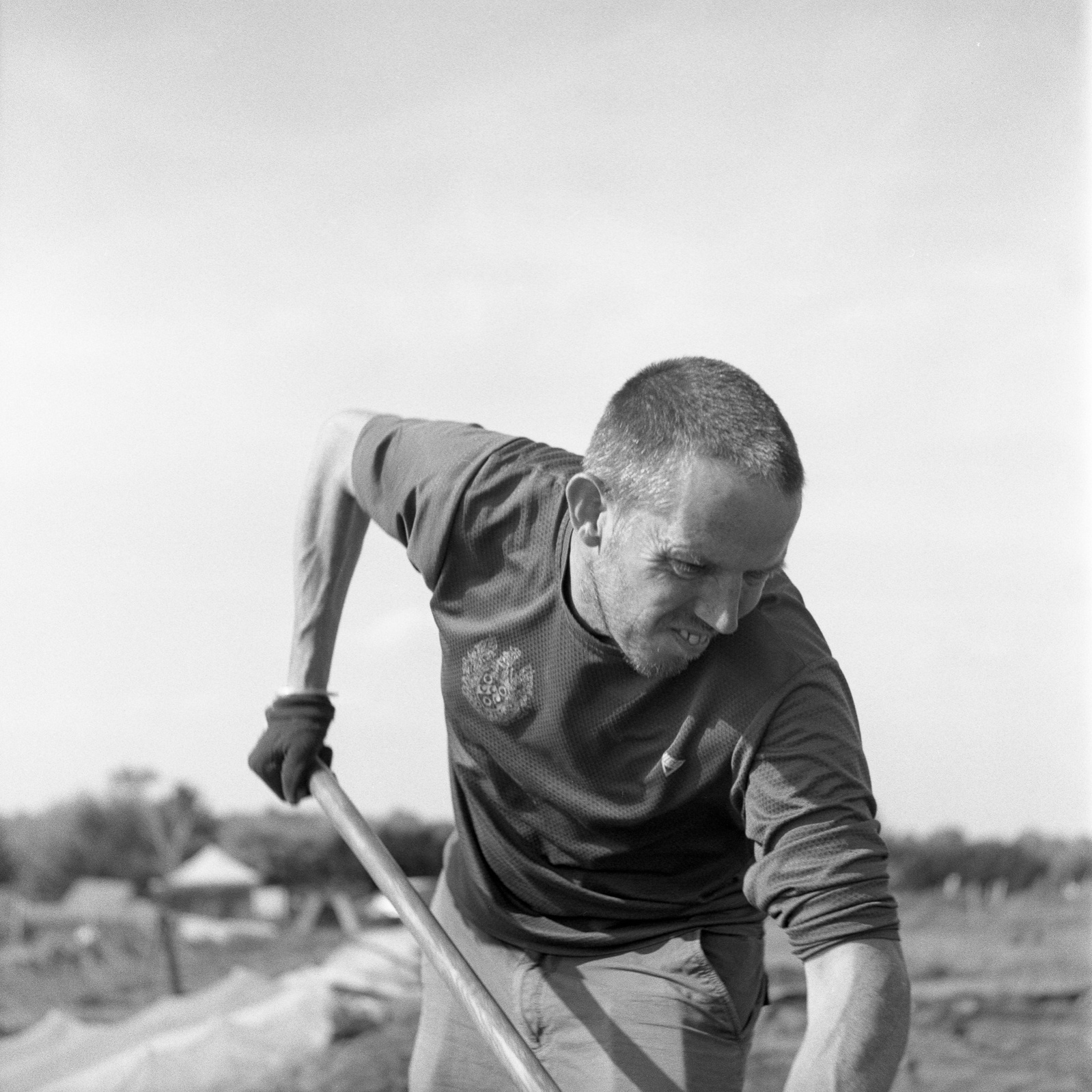 Cris (Crispin) Ricketts, raking soil for planting at Farnham Community Farm, May 2020.
He leans towards camera actively, grimacing slightly with effort. The sky makes up three-quarters of the background, bright and almost cloudless in the early summer heat.
I'd spent half a day at the farm photographing by that point and I was sweating in the heat myself. As Cris raked, I backed up carefully, trying to avoid stepping on anything that might have been planted, whilst adjusting the focusing knob on my Yashica 635 TLR with small movements.
Too often I find I take the wide view, one where in this case you would have seen the rake as it carved through the soil in addition to Cris. This time, I wanted stay close. To keep the focus on him, his face, where you can see his eyes crinkled along their laughter lines, squinting against the glare. This meant that I cut off the arm closest to the camera, where the forearm leads to his left hand holding onto the handle closer to the rake head, guiding it in rapid strokes through the soil. But I think the picture works.
You don't need to see the whole rake to know what he is doing. Instead, you might notice other details; the dimpled pattern of the long-sleeve t-shirt, with the sleeves pushed up, his right hand stretched behind him, pressing forcefully on the end of the long wooden handle of the rake. The physicality of it. All farming is hard work, including small-hold, sustainable, community vegetable farming.
I've recently printed this image from my project 'Pure Soil' for display as part of Surrey Artists Open Studios, in June 2021. Other prints from the series will be displayed alongside it, as well as some new, more experimental work that complements the project and ties in with the subject.
More information about my SAOS opening days and times here.