22 June 2021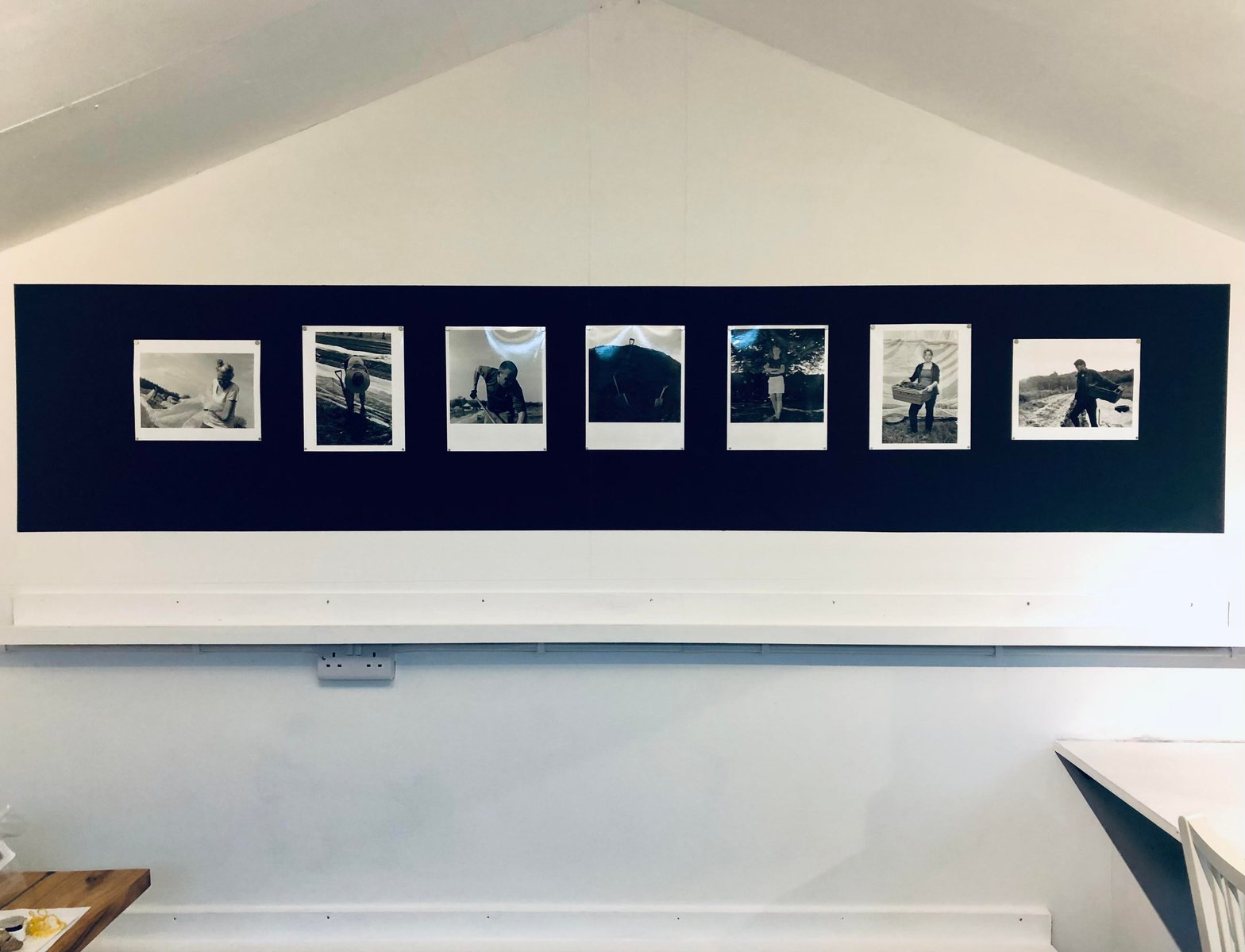 "Very atmospheric."
"This project has legs!"
Thank you to everyone who stopped by my studio during Surrey Artists Open Studios (SAOS) this year. There was enthusiasm, energetic discussion and invaluable feedback.
When I applied for the Arts Council England, Develop Your Creative Practice funding in Round 9 earlier this year, I had marked down SAOS as a time to reflect and solicit feedback on my new work, in particular some new forms of work. Although I did not get the funding, I decided to press ahead with this plan.
I showed darkroom prints, made at the Kiln Photo Workshops, from my project on local sustainable and regenerative farming, 'Pure Soil'. Alongside these, I exhibited some new complementary forms of work utilising still life and alternative photographic methods.
In the week prior to SAOS, I collected soil samples from Farnham Community Farm that I used in a soil chromatography workshop given by Hannah Fletcher and Land Art Agency. Since the farms I am photographing are very conscious of their soil's health, I thought this would be an interesting way to complement the photographic images. The process and outcome mixes science and photography.
Chromatography is a way of separating the components of a mixture. It has many different uses, mostly scientific, and is often used to better understand the different components of a mixture. For my project, I extracted the organic matter from soil by dissolving it in sodium hydroxide, let it absorb onto a filter paper covered in silver nitrate, and left it out in sunlight to "develop". Beautiful patterns emerged. I am still refining the technique and hope to get to a point where I can reproduce it reliably. Then I will use it on different soil samples from the various farms in my photography project.
The still life prints I displayed were of fossils that one of the farmers at Farnham Community Farm, Cris Ricketts, has found while prepping and planting the vegetable beds. Cris is studying geology, so these fossils hold a particular scientific interest to him. To me, these fossils connect our present activity on the land to history, anchoring us to a tiny part of a continuum than spans millennia.

Working on this project about sustainable farming has moved me to examine the sustainability of my photography practice and reduce its environmental impact. That is why I chose to print the fossil images using Hahnemühle's Natural Line bamboo paper, which consists of 90% fast-growing, renewable bamboo fibre and 10% cotton.
After three weeks of long days and weekends in the studio, deep in thought or engaged in discussions, I have renewed vigour and focus for this project. I'm happy where the project is going and it is clearly an important, topical subject. James Rebanks, a farmer and author from the Lake District, recently wrote an article on how British farming will be placed under enormous pressure to intensify again in the wake of the trade agreement between the UK and Australia, with further detriment to the UK's ecosystems.
I have a number of things to follow up and do now for my project, whilst continuing to make work. This includes contacting people to see about working with an academic partner (if you know anyone who might be suitable please let me know). As things progress, I'll keep you updated.
Take care.
–
I have a small favour to ask. Working on independent, long-term projects is time-consuming and financially challenging, even more so in these difficult times. Many people have decided to pursue a funding model in which the content they produce is only seen or read by subscribers who donate or pay to do so. I have decided to go a different way. I would like to keep my work open for all. So, if you would like to support my work on this ongoing project, or other current and future projects, please consider making a donation, and, if you can, supporting me with a regular amount each month. As little as £1 can go a long way and it only takes a minute. Alternatively, there are other ways you can contribute outlined on the 'support my work' page. Buying a print is one such way, which provides you with something tangible in return for your investment. There is more information about my prints on this page. If you do not see the specific image you would like in my print shop, please contact me for information. Thank you.
Donate via PayPal HERE.