Surrey Artists Open Studios June 2022
30 May 2022
In June I will be participating in Surrey Artists Open Studios (SAOS) again, but this time with a little twist… it won't just be me. I'm excited to be exhibiting alongside my son, Alex, for his first show.
Last year he asked for a film SLR for his birthday. Since then he's been photographing regularly, as well as developing his own film and printing in the darkroom at Kiln Photo under the tuition of Abbas Nazari, Dylan Haines and Seamus Flanagan. Here's a brief bit about our exhibit:
Cartes de Paris, Père et Fils (Postcards from Paris, Father and Son)
These twelve "call and response" postcard diptychs, twenty-four photographs in total, show Paris as seen through the eyes of a father and his son on a trip made to the city in February 2022. They consist of darkroom silver gelatin prints, hand-made using Ilford RC Portfolio 4x6" double-weight paper.
It's been a really fun collaboration putting this together; selecting images, looking for ones that respond to each other and going through the whole editing, printing and sequencing process.
Kiln Photo will be open 11am – 5pm on 11-12th, 17-19th and 23rd-26th June
The address is: The Kiln, 38 St Georges Road, Badshot Lea, Farnham, GU9 7LY
The studio is situated on the second floor and, unfortunately, it is only accessible via the stairs.
There will be a total of nine photography exhibits at Kiln Photo for this year's SAOS, each very different. Details can be seen here. It's a fantastic chance to see the range of work being made by members at Kiln Photo and to come and visit the facilities, which include back and white and colour negative film processing, developing and printing, alternative and traditional techniques, as well as a digital suite with monitors, scanners and Epson printers.
Kiln Photo is part of the 'North Farnham Art Trail' alongside some other wonderful artists and makers. There is so much wonderful art and craft to see at SAOS, so we do hope you'll pay us a visit. See the graphics below for a map, open days and times.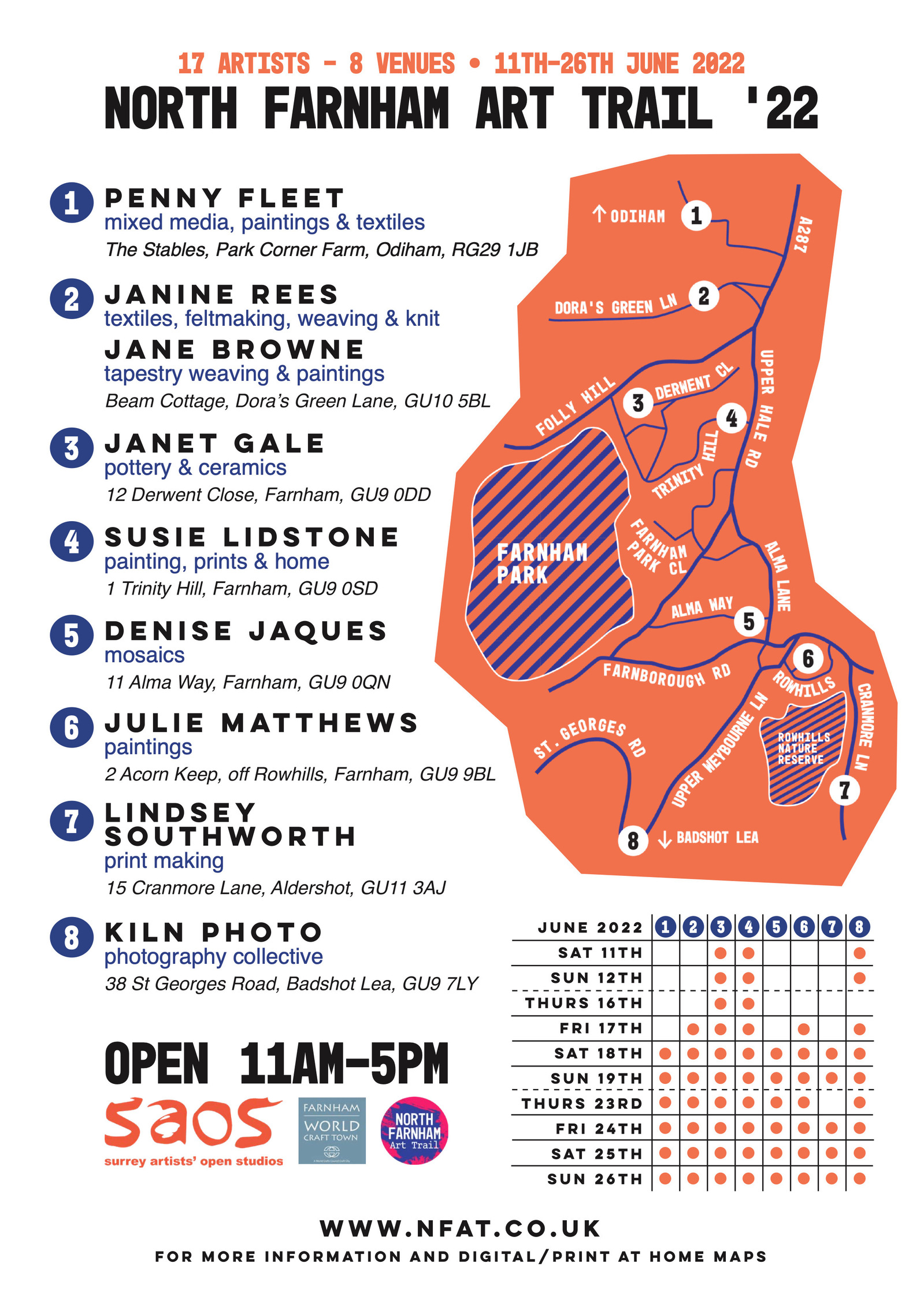 –

If you are visiting this post as an artist or maker in the Surrey, Hampshire and West Sussex area participating in SAOS, I would like to draw your attention to my personal commissions and work with artists, craftspeople and makers.
Please get in touch via email if you are in need of photographs that document your process and showcase your works. This could be for personal use on your own website, portfolio, social media and print marketing, works in academia or a museum, or work being made as part of a grant or commission. I believe that to get the best out of your work in the photographs it is essential that the process of photographing them is collaborative.