20 April 2022
Earlier this year I was commissioned by textile artist Linda Brassington to photograph a piece she created for an exhibition at the Crafts Study Centre in Farnham. The piece, called Compressed, consists of textile, paper and foil, and reflects the Japanese practice of itajime, indigo dyeing of folded materials, such as washi, between pins and clamps.
When deciding how to photograph the piece, I wanted to reflect the creative idea and process behind the object by making it feel like it had just emerged from the inky depths of an indigo vat. I constructed my setup and lighting accordingly, using a black backdrop and resting the object on a pane of glass. The delicacy of the piece itself mean this was a very considered process, only making small, careful adjustments as needed.

Compressed was exhibited alongside other pieces born from a University of Creative Arts textile research trip to Japan and my photograph of it has been included in the book catalogue for the exhibition. Tansa-Japanese Threads of Influence has closed now but it was fantastic. Walking into the exhibit was surprising as I didn't expect all of the pieces to be so small. Each one rested on a square plinth about one metre tall and 50cm x 50cm on top. The intricacy of the artistic endeavour was astonishing. Tansa is the Japanese word for exploration, which felt very apt as I explored these small worlds; mysterious creations made out of thread, textile and other materials.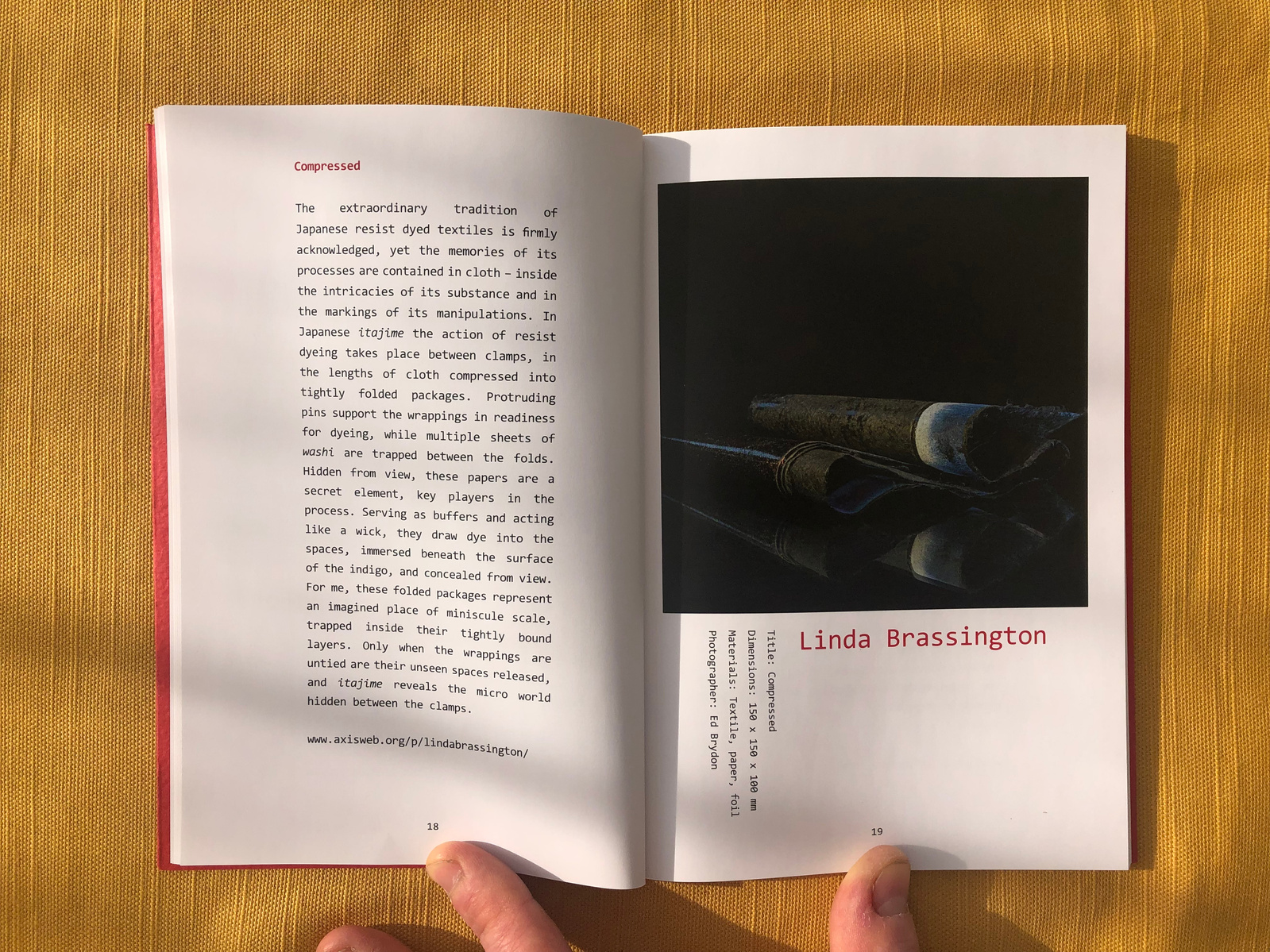 I think it is fitting to end this post with an excerpt from the short essay within the exhibition book by Keiko Kawashima , Director of the Kyoto Contemporary International Textile Art Center, which she starts by saying:
"In the long history of Japanese art, one of its characteristics is said to be "the love of small things"*. We have poured our skills into small things and created wonderful things".

*From the exhibition in 1996 at the then Kyoto National Museum "Manazashi no boken" (Adventure in 7 Viewpoints from Japanese Art)

Wonderful things indeed.